Car organization is important.
Why?
According to a study done by the Harvard Health Watch, the average American spends 101 minutes per day driving (which equates to a staggering 37,935 hours driving a car in a lifetime!)
Think about that. Just let that settle in! Yeah. Wow. We spend a lot of time in our vehicles.
Therefore, most of us want to be in an environment that's clean and organized which in turn reduces stress, saves us embarrassment when someone else has to get in our car and improves safety.
How to Clean Your Car (Effectively and Efficiently)
1. Check below your feet 
Anything that doesn't need to be in your car is something to get rid of. For Mom's and Dad's out there, there is likely a few surprises all around your car. don't worry, we've all been there.
This is where a car trash can really comes into use. You (or your kids) can just throw your coffee cup, wrappers, cans, etc. in there as you go, contain it and then empty as needed.
2. Shake the floor mats out
So much dust and dirt can be found underneath your floor mats! Make sure to give them a good old shake every once in a while, you'll be surprised with what you can find.
3. Vacuum-up! 
I bet you'll find at least 4 things to vacuum. Minimum.
Vacuum anywhere you can. Whether that is your seats, carpet, wheel, pedals, trunk.
4. Wipe down surfaces with your Ceramic Car Coating!
Car cleaning wipes are expensive! As a much more effective, lasting, and affordable option, make sure you have your very own bottle of 9H Mr. Fix Auto Ceramic Coating. If you don't you can grab one right here: Click Here
5. Recapture that new car smell!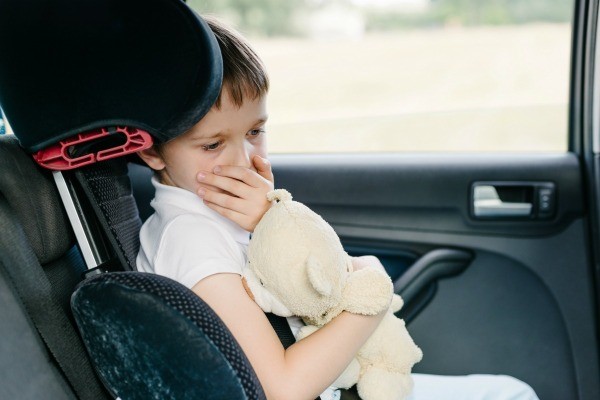 Everyone loves that new car smell. To retain it use the following.
Homemade Carpet Freshener/Deodorizer
2 cups of baking soda
10-20 drops of essential oil
Container with a shaker top
Step 1: Place the baking soda in a ziplock bag or a jar and add the essential oils.
Step 2: Shake it!
Step 3: Leave for 24 hours so the baking soda soaks up the oils.
Step 4: Store it in an old shaker.
Step 5: Sprinkle on your carpets. Let it sit for 20-30 min (or longer) & then vacuum up!
6. Cup Holders
Cup holders are often overlooked, they can be very useful and convenient! We recommend you try using them more often and making sure they're optimal for your entire family. 
--------------
Ok now we've been through the tips and tricks to clean your car's interior efficiently and effectively, let's move on to the next stage.
Keeping Your Car Clean and Organized
Keeping your car clean after getting it that way is much easier said than done. This section will help you save time.
7. Make the Glove Compartment Useful
You can just keep it for normal things or:
Car insurance
In case of emergency (contacts)
Registration
Car maintenance receipts
Car handbook
8. Plastic Bags at the Ready!
You can use a Kleenex box and stuff it with plastic shopping bags for trash, wet clothes, diapers or have it be your very own recycling bin.
9. Puppies Be Chillin'
Using this effective gadget, you can protect your car's seats from dirt, scratches, with a Dog hammock.
10. Car Seat Hangers
Hang grocery/shopping bags from the back seat without having to worry about the food spilling out!
And that's how you keep your car sparkling clean and utilize every corner ladies and gents!